The Jiva Certificate Course in Skills for Career Guidance. 
BACKGROUND
The Jiva Certificate Course in Skills for Career Guidance has been developed by expert career psychologists and is based on extensive research into the work orientations and responses to career choices of Indian young people. It has been successfully conducted for the last 10 years and has reached close to 250 individuals, in 27 batches. 
The course has won international endorsement for its validity, and has been adapted for use in a number of other countries.
Successful candidates receive a certificate and a license to practice the Jiva method of career guidance.  Interested candidates also have the option of obtaining a university accredited certificate. 
OVERVIEW
The course content comprises Conceptual Foundations and Core Skills.  Participants learn career guidance theory and concepts and receive intensive training in skills for career guidance focusing on mastery over the Jiva Kit. 
The course…
is an intensive, fully residential,

eight-day course

is delivered in the

workshop

format
takes a

competency

based,

learning outcomes

approach to the process of teaching and learning.  
About 20% of the course covers theory and the rest is devoted to skill development and practice.
The training includes skills both for face-to-face as well as online delivery of the Jiva career guidance workshop.
KEY FEATURES OF OUR TRAINING METHODOLOGY
Our training team comprises expert career psychologists and experienced practitioners.  We take a multipronged approach to training:
Face-to-face training methods include

: * Lectures and Discussions * Demonstrations * Personalised Tutorials where necessary * Skills Practice * Role plays * Group Presentations * Assignments and Tests * Formative and Summative Feedback.

Skills practice with Students

: Toward the end of the 8-day course  participants prepare and present a practice workshop to a group of grade 10 students. 

Field assignment

: On completion of the course, participants are required to conduct an independent field assignment, under the supervision of a Jiva expert.  
The pictures provide an overview from earlier training programmes.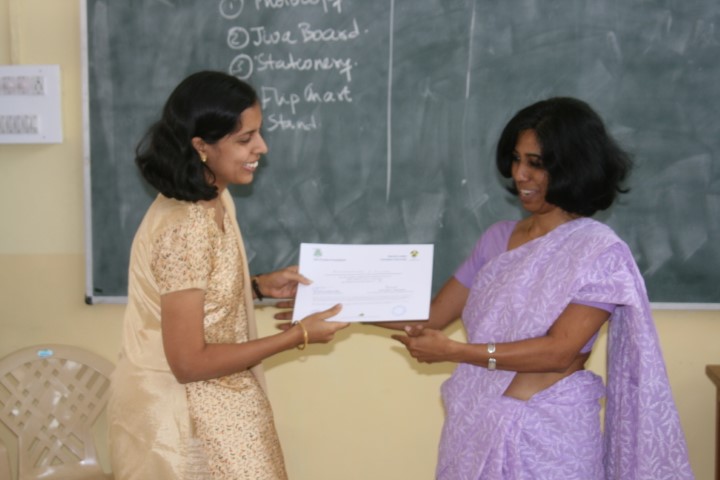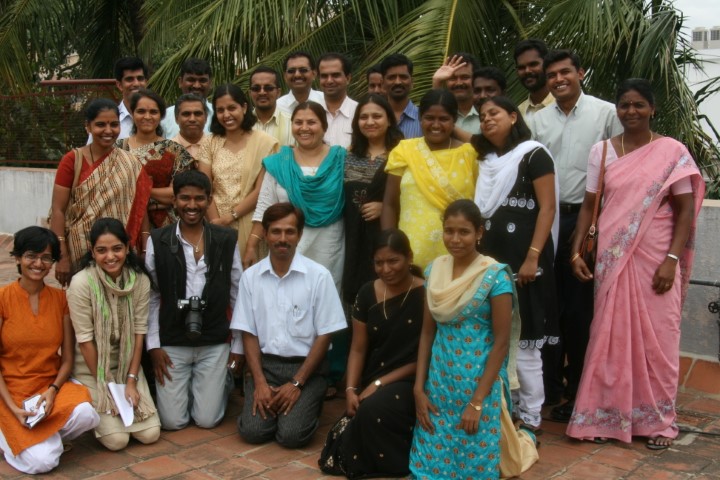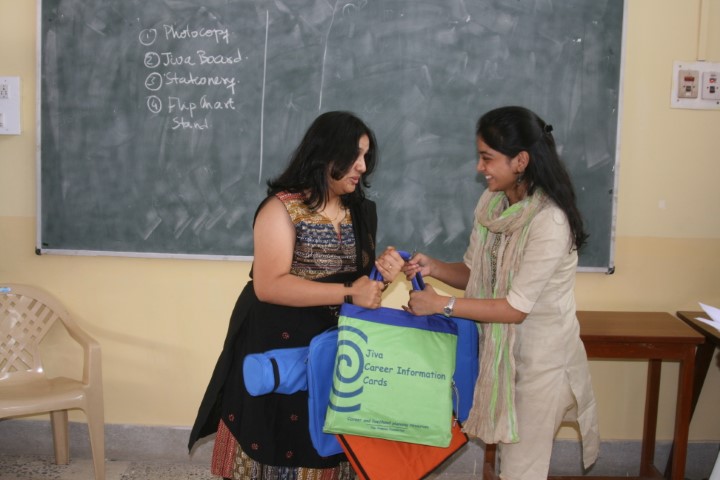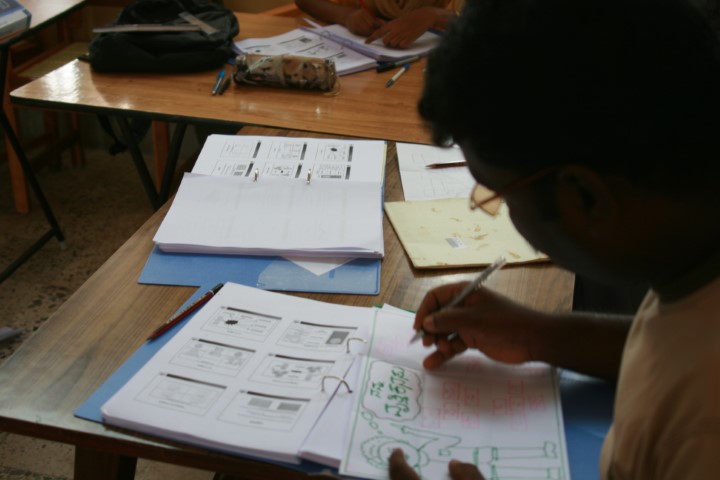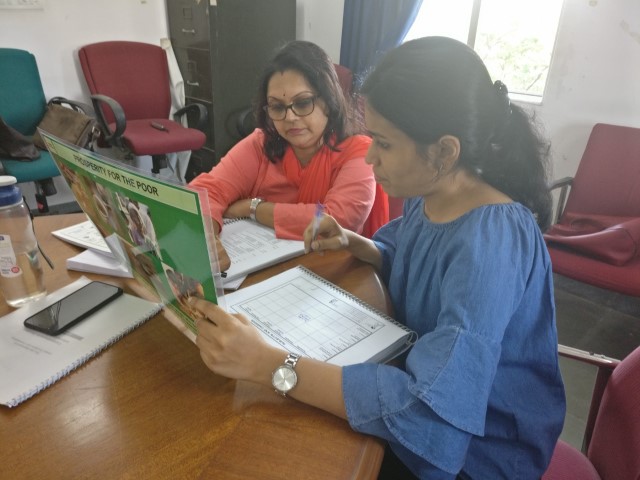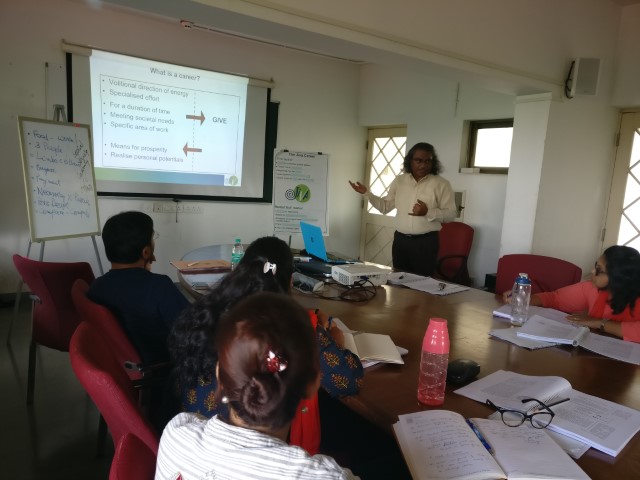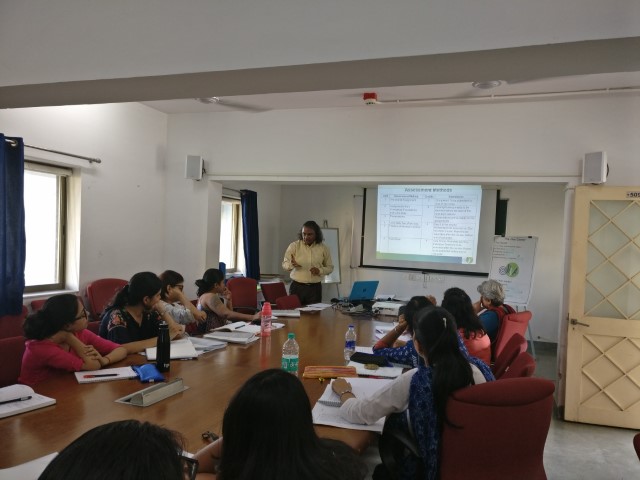 COURSE DELIVERY AND ADMINSTRATION
All modules will be delivered in the

blended learning

format combining distance (online) learning with contact classes. The balance between the two would vary according to the module theme and intended learning outcomes.
The administrative hub of the courses will be the

Promise Community College

in Bangalore. 
Contact classes will be organised around a minimum of

5

students and a maximum of

30

students per batch.
Contact classes will be held in the College premises or in

other

locations, as per the number of students in a given location.
CAREER AND JOB PROSPECTS
The last few years have seen a significant increase in the demand for qualified career guidance professionals.  Jiva graduates find the following types of employment:
Educational Institutions: Schools and Colleges.
Counselling Centers.
Non-Governmental Organizations working with youth and young adults.
Employment and recruitment Centers.
Government departments (e.g., National Careers Service).
Rehabilitation Centers
Independent practice.
Course Dates and Details
Course Date: July 14 to 21, 2023.

Fully residential.
9 am to 5 pm.
100% attendance is mandatory.
Eligibility
Bachelor's degree.
Experience of working with students.
Excellent communication skills.
Fluency in English.
Selection
Step 1:

The Jiva application form is designed to collect background information and assess your suitability for this course.  Your first step is to the complete the form and mail it to us.  Click here for the Application Form. 

Step 2:

Suitable candidates will be invited to take an Online Entrance Test.
Candidates who reach the required grade on the entrance exam will be selected.
Deadlines
Last date to receive applications:

30th May 2023.

Online test:

  1st to 4th June 2023.
The question paper will be sent to you on the 1st June, 2023.  You will have time to submit your completed test until the 4th of June 2023.  This is an open book test and you will require about 2 hours to complete it. 
Venue
Training Venue:

The Promise Community College, Sarjapura, Bangalore.

Accommodation Venue:

A retreat centre about 5 kilometres from the training venue.
Transportation from the accommodation to the training venue will be provided.